If you remember I made a Trio of Trick or Treater Mini Quilts back in October that I hung on my wall for Halloween. I have the trio of hangers and How to Make A Trio of Appliqued Winter Snow Scene Mini Quilts. I hope to have a Trio of Mini Quilts for the Seasons or Holidays to switch out. This little snow scene can be used just during the Christmas season or you can keep it up for the duration of Christmas. Since I live in Florida, I will probably keep it up for a couple of months before I switch it for something more season for our area! I am originally from Michigan so I know the winter season very well!
These designs are inspired from memories of building snowmen as a kid when we would have snow days off of school and lots of snow. I remember building one at night too, it was so much fun as a kid to play in the snow and build snowmen and make snow angels. I also drew inspiration from Christmas Bulbs my grandmother taught me to paint when I was younger. Below is one of the bulbs she made for me. Her bulbs show a cabin out in the country surrounded by fresh fallen snow and pine trees. I loved that she taught me how to paint these because I have no painting skills and it is something that I will always remember and be able to hang up every year.
I have provided the templates for How to Make A Trio of Appliqued Winter Snow Scene Mini Quilts. There are so many possibilities of the fabrics that you could use to make these that I look forward to seeing what you do with these templates!
To download the templates, sign up below to get exclusive access to our Free Resource Library, or if you already have the password click the button to go directly there!
I have a very in depth video showing how I put this together, the creative changes I made, and a continuous bias binding tutorial at the end.
Lets get Started with the Supplies!
To do my trio I used a Fat Quarter Bundle of Robert Kaufman fabrics, but you can use whatever you want to build your own and make it to fit beautifully in your house.
Supplies:
Background – at least 3 pieces of fabric that will yield a 12 1/2″ x 12 1/2″ block of fabric for each mini quilt.
Applique – fabrics of your choice for all the applique pieces!
Lite Steam a Seam 2 for adhering applique to the background.
Topstitching Thread for the Applique
Stabilizer for applique, in this project I used quilt batting.
Enough batting to have 3 – 15″ x 15″ pieces for the trio of mini quilts.
Backing fabric to have 3 – 15″ x 15″ pieces for the trio of mini quilts.
60″ of 2 1/4″ wide fabric for binding.
Step 1 – Start tracing and cutting Applique pieces
Once you have your templates printed, cut the pieces out and we will start to transfer these to the Lite Steam a Seam 2. My quilts do not have the Lite Steam a Seam 2 on the snow pieces, I used basting spray to adhere them to the background.
I use a lightbox to transfer my templates to the Lite Steam a Seam 2. I lay my template face down on the light box and then put the Lite Steam a Seam 2 gridded side up and trace the template. For the snow pieces, turn one of your templates face up and then your snow will flow from one quilt to the next!
Step 2 – Build the Snowmen and Cabin
Once all your templates are traced onto the gridded side of the Lite Steam a Seam 2, then gather your fabrics for each piece. You can cut your applique fabrics to the size of the Lite Steam a Seam 2 pieces. Next up you will peel the plain paper off of the Lite Steam a Seam 2 and stick it to the back of your corresponding fabrics.
One thing you can do here is to take a Teflon pressing sheet and put together your snowmen and cabin to make them one piece before you put them on the fabric. At this time you can peel off the gridded side of the paper and put the pieces onto the Teflon sheet and arrange them exactly how you want them to be. Once you have them ready, you can then press them onto the Teflon sheet according to the Lite Steam a Seam 2 directions, which is to press for 10 seconds. I use a Teflon sheet on top of all my applique when pressing too.
This will cause all the pieces to stick to each other but the glue doesn't stick to the Teflon sheet, so you can peel it off and have it ready to set on your background!
If you don't have a Teflon sheet you can use parchment paper OR it is totally OK to put your pieces together on the background!!
Step 3 – Start arranging your pieces on the background
Grab your background pieces and your snow pieces. If you cut one of your snow pieces opposite of the others, then use that piece in the middle quilt and then the snow will flow from one quilt to the next! I use basting spray on the back of the snow pieces to adhere them to the background. The reason I do this to create less bulk from the Lite Steam a Seam 2 from all the applique pieces.
Once your snow is on, you can start laying your pieces out how you want to arrange them! Once you like your arrangement then you can start peeling the paper off the back of the pieces and start sticking them to your background.
Now that you have your pieces in place, we can iron them down according to the directions to the Lite Steam a Seam 2 . I use a Teflon sheet over my pieces or you can use parchment paper and hold the iron down for 10 seconds over the entire fabric to adhere the glue.
Step 4 – Lets Applique!
Choose your threads for your applique, you can use matching thread for your pieces or black and create an outline of all the pieces. I put the batting on the piece before applique to keep from having so much thread on the back and it works as a stabilizer.
With the Lite Steam a Seam 2 on all the pieces you shouldn't need a stabilizer on the back, but it doesn't hurt either. Stabilizer will keep the fabric from shrinking when appliqueing.
Another choice to be made is what decorative stitch are you going to use or are you going to raw edge applique. This is totally up to you! Both methods are beautiful and will give your quilt a unique look. Raw edge applique does require free motion quilting though, but don't be scare of that!! It's not that hard! These little quilts will give you good practice if you are not so sure about raw edge applique.
I started with raw edge applique on the snow and did some quilting in it since it was basted down. I wanted to make sure it would stay on the background.
If you don't want to do any free motion quilting in the end. Leave some of the applique for after you sandwich the backing and batting and that will help to quilt the pieces together!!
Step 5 – Sandwich your Quilts
With the applique completed we will now sandwich our tops with the batting and backing. Quilt basting spray works great to keep the pieces together so they don't shift while putting these together. These quilts are small enough that they don't need a lot of quilting to hold them together.
If you didn't save any applique, then you can take some matching thread and quilts inside the sky or snow or both to hold the pieces together. You could also use some monofilament thread (invisible thread) and outline your shapes and it will look like they pop off of the background.
Of course, whatever method you choose it will look absolutely beautiful!
Once you are done with the quilting, you can trim all pieces to the top to have a 12 1/2″ x 12 1/2″ square ready for binding.
Step 6 – Finish the quilt with binding.
At this point your little mini quilts are ready for binding. We all have our own methods for binding, you can choose your favorite method for this.
In my video tutorial for this quilt, I show how to do a continuous bias binding. All you need is a fat quarter and it will yield around 130″ of quilt bias binding! Head over to my YouTube video and in the description I have put the timestamp for the continuous bias binding.
Here is my method:
Trim the batting and backing even with the quilt top.
Cut 2 ¼" strips and piece together to make at least 60" of continuous binding. Iron in
half with wrong sides together.
Attach to the quilt top in a double fold straight grain fashion.
Place binding strip on top of quilt top so that all raw edges align on the outside edge of
the quilt. Raw edges include 2 binding strip edges, quilt top, batting edge and quilt back
edge.
Start sewing about 6 inches from a long edge, leave about 20" of the binding free at the beginning. Sew all away around until you get to the edge you started with and stop 6" in from that corner.
Line your binding up with the start of the binding and overlap them. Trim the end of the binding to be 2" (1/4" shorter than the width of your binding).
With the the two open edges of the binding positioned above you, take the binding on the left and open it face up, then take the binding on the right and open it so the wrong side of the fabric is face up.
Line these two binding pieces up perpendicular to each other and sew diagonally from the left upper corner to the right lower corner. See figure below.
Trim your seam to ¼" and finger press and your binding will now fit and you can finish sewing it to the quilt.
Fold binding around the outer edge of the quilt and hem the binding to the back of the quilt.
FINALLY – Hang and Admire
Thank you so much for coming along this Trio of Snow Scenes Quilt journey. I hope you enjoyed and I know for a fact that if you made these quilts, they are beautiful. Please share on my facebook page so I can see your beautiful creations!
Looking for great buys!
Fabrics, machines and threads like I use in my projects Check out these links.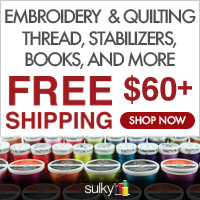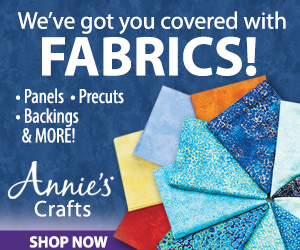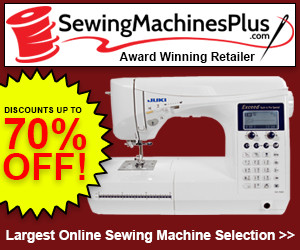 Your clicks and purchases help support free patterns on Canary Quilts at no extra charge to you.
This is affiliate advertisement. Please see FTC Disclosure here: https://canaryquilts.com/ftc-disclosure-statement/