Happy Halloween! It is sneaking up on us quick. I am in a new house so I don't know how many kids I'm going to have come by, but even if it is a few kids it will still be a fun night.
This week I am introducing a Wonky Log Cabin block. In the same vein as a log cabin block, but with a modern take on the Log Cabin Block. I used this block in a Ghastlies Quilt I did years ago because it matched their personality perfectly.
My Ghastlie Quilt using different Wonky Quilt Blocks
So let's revisit a version of this pattern with some of the novelty fabrics I have in my Stash. I love how the center of the block is large unlike most Log Cabin Blocks, so that we can fussy cut our center to show off whatever we want in the middle. I show off my Ghastlies in the quilt above. Below is the current Wonky Log Cabin Block I did for this tutorial.
The Wonky Log Cabin Peek A Boo Block I did this week.
I went to my stash and found four fabrics that I thought I would use and I made 4 blocks – a 12″, 9″, 6″ and 3″ foundation paper pieced Wonky Log Cabin Block.
To get started, head over our Library Access page and grab the pattern, or click below to sign up and get a password to enter our Free Pattern Resource Library.
Wonder how I get all my Batik Fabrics? I have been in a Batik of the Month Club for almost 10 years now. I pay about $35.00 a month and get 12 assorted Batik fat quarters. Tthe colors may not be something I use that month, but I will probably find a use for it later. For example, like in the block with the cat above. I am not a pink person, so I held on to these and finally found a project they would work in. I highly recommend being in some kind of Fabric of the Month club, it's fun, it comes every month and it opens up the possibilities of what you can make. It also takes the stress out of picking out colors!
I printed my pieces on my inkjet printer with Newsprint paper I found on Amazon. For instance,This paper works great because it is thin and you can see through the back of it and when you use a small stitch length it perforates the paper. The paper then practically falls off when you remove it. Below is a link to the paper I use.
Step 1 – Getting the Pattern and Fabrics Ready
Print the pattern size you want to use or print all of them and make all 4 size blocks.
For the larger patterns you will need to tape the pages together. Match the dashed lines up on each paper and tape together making sure you don't take over any of the sewing lines. It will make it harder to pull the paper off in the end if there is tape on the sewing lines.
Choose your fabrics! I have listed what sizes are needed for each of the blocks, so find the center piece size and start looking through your fabrics to see what you want to add to that Peek a Boo center piece.
Click here for the fabric cutting instructions for each of the block Sizes. – Fabric Cutting for Peek a Boo Wonky Log Cabin Blocks All Sizes
Step 2 – Choosing Colors and Laying Out the Pieces
Now that we have our center piece fabric chosen, we need to find 5 colors that will correspond with the center fabric, but not too close in color because we want our wonky strips to stand out. In my examples you can see that I have chosen my fabrics based on the center piece, but they have enough contrast to stand out from each other.
Once you have your fabrics picked out then cut them to size according the Fabric Cutting for Peek a Boo Wonky Log Cabin Blocks All Sizes.
Line up your fabrics from the center to the longest like in the pictures above. The pattern is not numbered to go in this order, but you will be able to keep track of where in the block the colors go.
Step 3 – Layout the first two pieces (A1, A2)
To begin with we will get our A1 and A2 pieces with our pattern and start here.
Turn your paper pattern piece over so you are working on the non-printed side. Center you center piece on the A1 Square. Tape or pin it in place, but keep the tape and pin away from the A2 sewing line.
Turn your paper pattern piece back to the printed side and find the A2 sewing line.
Take a ruler or piece of junk mail (something straight and sturdy) and use it to fold on the A2 line. Use your Add-A-Quarter Ruler or just a ruler with 1/4″ markings and trim your fabric to 1/4″.
Step 4 – Sew A3 – A21 Pieces
Moving on to A3 – A21 pieces of this pattern are going to be exactly the same. Follow the following steps for each numbered piece in order.
Find the next sewing line, fold the pattern on that line
Turn pattern over and cut 1/4″ seam allowance with Add-A-Quarter Ruler on the folded line.
Still on the non – printed side of the pattern, line up the appropriate color piece of fabric for the number.
Turn pattern to printed side and sew on the line you just folded. (Backstitch at the beginning and end)
Iron your piece open
Repeat above steps until you are done with the block!
Step 5 – Trim your Block
Trim your block using a ruler and rotary cutter on the outer seam allowance line on the pattern piece. Depending on which block you chose your finished block size should be 12 1/2″, 9 1/2″, 6 1/2″ or 3 1/2″.
Peel the paper from the back of your block and iron flat all the seams.
Step 6 – Admire
At this point, you can make more of these to make a quilt piece or trim it out and make a mini-quilt.
I have put together a video showing how i choose and fussy cut my materials, and also how to paper piece this Wonky Block.
Looking for great buys!
Fabrics, machines and threads like I use in my projects Check out these links.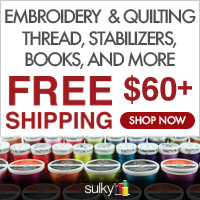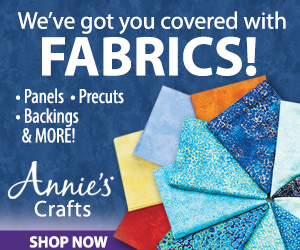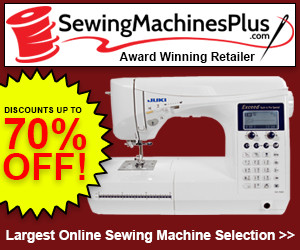 Your clicks and purchases help support free patterns on Canary Quilts at no extra charge to you.
This is affiliate advertisement. Please see FTC Disclosure here: https://canaryquilts.com/ftc-disclosure-statement/