This is a free Fast and Easy Pumpkin Mini Quilt is a fun way to celebrate fall. We currently live in Florida, but I grew up in Michigan with the Fall season bringing beautiful foliage and crisp temperatures. It was such a nice time of year with Halloween coming and the colors of the fall season are my favorite.
That is the inspiration for this little Mini-Quilt that I created to remind me of those beautiful colors and feelings. You can find this pattern in my free library and the tutorial will follow. Below you can sign up to get the password and find the pattern in our Free Resource Pattern Library.
I love working on mini quilts because I can finish in such a short amount of time and have a beautiful product and feel accomplished! Mini quilts are also a great way to try out techniques without going all in on a large quilt and it uses up scraps of fabrics, so you don't usually need to buy new fabric!
Once you have the pattern downloaded you will need the following materials for this mini pumpkin quilt.
Material List for Mini Pumpkin Quilt
4 – 1 1/2″ x 2 1/2″ blocks of green fabric
4 – 1 1/2″ x 2 1/2″ blocks of light orange fabric
1 – 1 1/2″ x 2 1/2″ blocks of dark orange fabric
1 – 5 1/2″ x 6″ gold fabric block for the applique
1 – 9″ x 11″ backing fabric of your choice
36″ x 2 1/4″ strip for the binding
Scraps of orange, green and brown for the pumpkin
Lite Steam-A-Seam 2 for the applique or your choice of lite double sided fusible web
Thread for piecing (I use Aurifil 50wt)
Thread for Applique (I use Sulky 40wt Rayon)
9″ x 11″ piece of quilt batting of your choice (I used Warm and Natural)
Optional Quilt Basting Sprhttps://amzn.to/3SnGPjbay
Optional Wash Away Double Sided Tape for Sewing
Let's Attach The Pumpkin to the Quilt Block
First thing you will work on is getting your pieced blocks cut to the dimensions specified above and then cut out the template pieces for the pumpkin applique. Once your template pieces are cut, then trace then onto your Lite Steam-A-Seam 2 (make sure not to flip your pieces when tracing or they won't go together correctly).
Second item is to get your template pieces onto your fabric. My choice for doing this is to cut the templates out as small as I can from the Lite Steam-A-Seam 2, pull the non-grid side of the paper off and press it onto the fabric for about 3 seconds. This will keep it on the fabric so you can cut it. At this point, you can now cut your pieces from the fabric and start arranging them on your gold background piece.
Third – Once you have all your pieces where you want them you can then peel off the Lite Steam-A-Seam 2 paper and place it on the material. The glue on the back of the material will help it stick in place until you are ready to iron. Once you have all your pieces, then you can iron down your applique. Lite Steam-A-Seam 2 needs to be pressed for 10 seconds and I used a Teflon pressing sheet on top of mine.
Next Up is the Pieced Quilt Block
Next up is to put the pieced section together. You will now lay out your 1 1/2″ x 2 1/2″ pieces in the following order.
Once your pieces are laid out, then we start sewing them together starting with the top row. Sew these with a 1/4″ seam and press the seams to the outside. I am using Aurifil 50wt thread because it is strong yet thin and doesn't add a lot of bulk to my projects. Next you will do the middle row and press the seams to the middle, and then the bottom row is put together like the first row with the seams pressed outward.
The reason we press the seams like this is so that when we sew the rows together our seams will nested and will make a nice flat block and it helps the seams line up nicely.
Now that we have both sides of our mini quilt put together we need to sew the two sides together. Your pieced block will probably be slightly larger than the applique block. Center the applique block on the pieced block and sew with a 1/4″ seam. Once these are sew together then you will trim the top and bottom of the little quilt to be squared off.
It's time to Applique
Now we get to put our little quilt on to our batting. I used Sullivans Quilt Basting Spray on the back of my little piece to keep it in place on my batting, and at this point I do my applique on the pumpkin. This is a personal preference because I don't want all that applique stitching on the back of my little quilt.
The stitch you chose here is also your own personal preference. I chose a blanket stitch that was small enough for this little piece.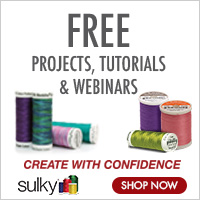 Also, I chose Sulky 40wt Rayon Variegated Thread for the Leaf and a solid Sulky 40wt Rayon Thread for the pumpkin and stem. Before you start your applique, make sure you baste around the edge of your quilt for extra security.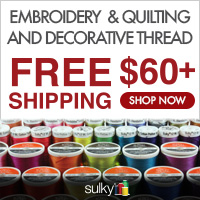 Now we are coming into the home stretch! Next we will attach the backing to the quilt and again I used Sullivans Quilt Basting Spray for this fabric also.
Heading to the finish line with free motion quilting
Once the backing is on then we can start the quilting! Small quilts like this are another great way to practice your free-motion quilting. You will need some quilting gloves to help hold the quilt while you are moving it. I did free-motion around the pumpkin and leaf and then just did some random stitching and didn't try to cross over my stitching. For the free-motion stitching I used Sulky 40wt Gold Variegated Rayon Thread. For the bobbin thread I used Superior Thread – The Bottom Line Thread. I always do some free-motion right off the quilt before I start to make sure my tension is good and to get some practice.
For all my applique work I am using my Janome Horizon Memory Craft 8200 QCP Special Edition, this machine is for more of my delicate work that I do and for appliqueing. It has several decorative stitches to choose from as well as other decorative stitches.
Finishing the mini-quilt
So now we are down to trimming off the extra batting and backing to the size of our little quilt and it is ready for the binding. I chose to sew a binding on with a 36″ x 2 1/4″ strip of fabric. Another technique would be to just do a zig zag stitch around the entire edge of the quilt.
I ironed my strip in half and then sewed it to the outside of the quilt with a 1/4″ seam using my 1/4″ foot. I leave a large opening on the bottom with extra fabric so that I can cut it to size and sew it at a diagonal and then sew it in place.
Once I have the binding sewn on. I bring the two pieces that I haven't sew together and cut one of the sides 2″ long then the other (my binding 2 1/4″ – 1/4″ to get 2″). I then put them right sides together and sew a diagonal, straighten out the pieces to make sure they are sewn together correctly. If they are correct, I cut down to a 1/4″ seam and sew the rest of the binding onto the quilt.
Now we turn the binding over to the back side and I use wash away double sided tape to hold the binding down on the back before I sew it and use clips in the corner. Once it is ready to sew the binding, I stitch in the ditch around the entire quilt on the binding seam.
CONGRATULATIONS! You have finished your mini-quilt. Feel proud and show it off. It is so much fun to do these little quilts and there are so many options for them, from this small size up to a 24″ quilt.
Let me know what you think of this little quilt in the comments. Are you going to try it? Would you change the colors, do you want to see another fall scene?
Following are some of the items I used to make this quilt.
This is affiliate advertisement. Please see FTC Disclosure here: https://canaryquilts.com/ftc-disclosure-statement/